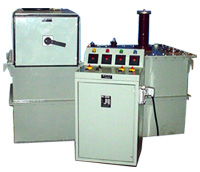 Product Description:
'Olympus' High Voltage High capacity testers are specially designed for testing cables and Electrical Equipment as per I.S Specifications.
'Olympus' High Voltage Testers have been designed and developed in house. During manufacturing each unit is tested at multiple stages, thus ensuring consistency and best quality. These instruments are cooled air cooled, oil cooled or air and oil cooled combined as per requirement
Special Features:
Supplied up to 300KV and 100mA
Multiple safety locks for the operator.
Light in weight
Build in safety for operator.
Casted wheel for easy movement.
Technical Details:
Transformer: A double wound step up transformer is the most important part of the equipment. The transformer is wound with high quality enameled copper wire & Polyster film/ Paper is provided between the layers. CRGO step core is used for light weight & efficient transformer.
Voltage Control: A step less auto-transformer is used for controlling the output from zero to maximum. The auto-transformer has built in arrangement for zero start interlocking.
Input Voltage: 230 or 400 V single phase 50 Hz AC supply.
Output Voltage: Up to 300 KV
Capacity: Up to 1000 KVA
Metering: Voltmeter to indicate output voltage and Ampere meter to indicate the input current are provided up to 25 KVA on primary side. Voltmeter and Ampere meter are provided are provided on secondary side to indicate output voltage and current for higher capacity
Duty Cycle: 15 minutes ON / 15 Minutes OFF
Termination: One end at earth potential & other at HV insulator.
Control:
Knob to control the output voltage from zero to maximum or push button n case of motorised units.
Knob to preset timer.
Knob to for tripping current control.
Protection:
Rotary switch and fuse up to 25 KVA. Switch fuse unit is provided for higher
capacity.
A fast acting DC relay actuates to isolate High voltage in case of fault or
when current exceeds the preset value.
The unit has zero start interlocking arrangement to ensure that HV will not
actuate unless variac is at zero position.
Test cage door interlock where-ever required.
Additional:
The units up to 10 KVA are housed in single housing above 10 FEATURES KVA are supplied two or more parts as per capacity.
Model up to 25 KVA will keep on indicating the voltage at which the sample under test has failed since the meter is on primary side. The control panel in  all the models is naturally air cooled type. Control transformer and maintrans former oil or air cooled as per the design & capacity of the unit.