Digital Insulation Tester (Model : DIT 2002)
Model Photo: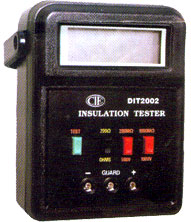 Technical Specifications & Features : 3 ?Digits, 1999 counts
Ranges
Insulation 0-200MΩ at 500V DC O/P
0-1000MΩ at 1000V DC O/P
Accuracy : ?%
Resistance
0-200Ω
Accuracy : ?%
Dimensions
170x 127x 78mm (approx.)
Weight
560g approx.
Easy and correct read- out
Built in over- input and low battery indiction
Automatic Aero adjust
Large LCD Display
Note: Also available AC High Voltage Breakdown Tester upto 100KV, AC /DC High Voltage Breakdown Test Set u to 100KV, Oil Test upto 100KV, Relay Test Set, Primary Injection Kit, Secondary Injection Kit etc.