Earth Tester
For measurement of Resistance of Earth
Digital Earth Tester (Model : DET-2000) 4 Terminals Type
Product Description
Provider wit Ni-cd rechargeable battery). Housed in Rugged ABS Body.
Model Photo: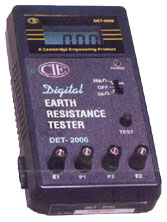 Technical Specifications & Features :
Display
3? digits, LCD
Accuracy
?/font>1.5% (effective range)
weight
575 gm (approx.)
Dimensions (in mm)
172x 98x 38 (approx.)
Standard Accessories
(i) Charrying Case
(ii) Charging Case
(iii) Instruction Manual.
Range Available:(a) 0-20-200Ω (b) 0-10-1000Ω (c) 0-100-1000Ω (d) 0-5-500Ω (e) 0-10-100Ω
Any other combination of ranges can also be made on specific requirement.
Analogue Hand Driven Generator Type (Model: CIE/222M)
3 Terminals & 4 Terminals
Product Description :
Housed in anti-magnetic aluminium casted body with protected metallic flap over glass window of scale, collapsible driven generator handle, centrifugal clutch (Governor) for constant output voltage, anti parallax mirror scale.
Model Photo:
Technical Specifications & Features :
| | |
| --- | --- |
| Scale Length | 80 mm (approx.) |
| Generator Rotation speed | 160  r.p.m. |
| weight | 2.5 kg (approx.) |
| Dimensions (in mm) | 110x 128x 190 (approx.) |
| Accuracy | ?5% (as per IS : 9223 / 1979) |
| Type | Available in three terminals ( For measurement of Earth resistance) & four terminals (for measurement of Earth resistance & soil resitivity both) |
Range Available:(i) Available in single range from 0-1Ω to 10,000Ω (any one range)
(ii) Also available in multirange provide with range selector switch to chosen from (0-1Ω to 10,000Ω)