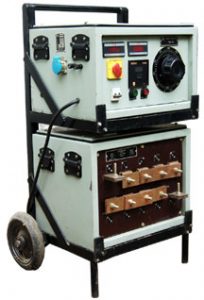 Product Description
Primary Injection test sets are used to loading. Calibration and testing of CT's bimetals relays, Protection relays etc. Mostly Primary Injection Test set are designed as per customer's specification. The Primary Injections Test sets are of 15 minutes ON/30 Minutes OFF duty i.e. testing duty only. Loading transformers are design for continuous use for Temperature Rise for bus duct/Bus Bar etc.
Optional accessories requirement may include cable termination, timer, Temperature Indicator, multiple contactor, individual Phase control etc.
Special Features:
Compact in nature It is available in portable trolley type/stationery type model Amps.
Optional digital/analogue timer. Main Transformer up to 25,000 Amps Naturally air cooled type.
Technical Details:
Step Down Transformer:  A double wound transformer is used for supplying high current at low voltage for testing.
Current Control: A step less Auto Transformer is used for Controllingoutput current from Zero to Maximum.
Input Voltage: 230/415 Volts single/two/three phase 50Hz. AC supply
Output Voltage Range:  As per requirement.
Output Current: Up to 25000 Amps.
Capacity: Up to 500 KVA
Duty: 15  Minutes ON-30 Minutes OFF in case of Primary Injection test set and continuous in case of Loading Transformer.
Metering: Multi range Ampere meter of class 1.5 with CT of class 0.5 are provided on secondary side to indicate output current.
Protection: ON-OFF  Switch with fuse is provided to protect the unit against short circuit, push button to actual and cut  of output.
Housing:  Each unit is housed in a MS sheet body, supported with angle iron frame. The oil cooled models are housed in suitable MS tank and the control panel is on the tank or as per requiems.
Optional: (a) Voltmeter  (b)  Timer as per requirement  (c)  Rubber cable (c) Zero start interlocking with by pass switch.
Termination: The output is brought out on suitable Bus Bar/Terminals.