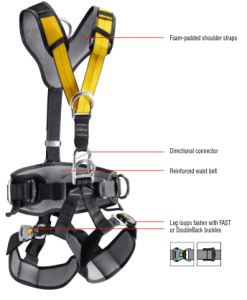 A safety harness is a form of protective equipment designed to protect a person, animal, or object from injury or damage. 
The harness is an attachment between a stationary and non-stationary object and is usually fabricated from rope, cable or webbing and locking hardware. 
Some safety harnesses are used in combination with a shock absorber, which is used to regulate deceleration when the end of the rope is reached. 
We offer a wide range of safety harness along with all its equipment needed to maintain safety for working at heights.