Model Photo: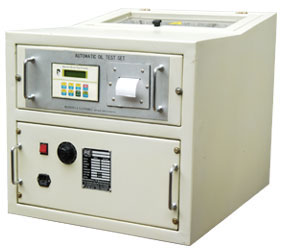 Product Description:
A transformer Oil Breakdown Test Set is an equipment that measures the Di-electric Strength of the oil.
The equipment consist of two High Voltage Coils having Starting winding at earth potential. The High Voltage Transformer is designed for testing Duty only. The equipment is made for testing transformer oil as per IS Specification. Regarding Transformer Oil and Electrode shape.
Different Types of AC High Voltage Oil Test Sets are:
Manual Oil Test
This system utilizes Variac having knob to rise the voltage output manually. The equipment consist of Voltmeter provided in Primary Circuit to indicate output voltage even after the Breakdown and consist of Fast tripping circuit, Zero start end lock, cage door interlock and operation safety.
Motorised Oil Test Set Manual / Auto Stirring
The system utilizes a motirized variac for rise of voltage at a pre-set rate of rise of voltage generated. A double throw switch is provided with circuit off Zero started. Locking pre-set tripping arrangement, cage door interlock and operation safety features.
Semi Automatic Oil Test Set
Same as above but rising and lowering of the voltage shall be Automatic with pre-set Weight time for stirring and supply.
Automatic Oil Test Set
This is  a micro-processor based the programming is pre-set with the provision to change the programming weight time as per the used.
Sample Number, Operator Code, Memory etc. The results can be viewed on a backit.
Built in Safety Features
Auto towards operation i.e.80 x 20 Column LCD Display.
Real time clock & Date
Printer Facility
Computer Interface
Seven Record  Memory
Technical Details:
Step Up Transformer : A double wound secondary Epoxy molded Air cooled / oil cooled transformer is used to boost the voltage to required voltage.
Voltage Control: A step less auto-transformer (Variac)  is used for controlling the output from zero to maximum.
Input Voltage: 220/230 V single phase
Output Voltage: 0-50 KV, 0-60 KV, & 0-100 KV
Capacity: 0.5 KVA to 1 KVA
Metering: Voltmeter is provided on LT side, cal liberated to indicate the secondary output voltage.
Electrode: Suitable size of electrode with adjustable gap is provided
Protection:
The unit consists of  fast acting DC relay provided on HT side to cut off the HT supply in case of flash..
Zero start interlocking is provided
Test Cup:  A test cup of suitable size made of transparent thermoplastic
Control:
Protection meter for output Voltage Setting.
Switch for manual and auto use.
Push button to increase or decrease voltage manually in case of manual position.
Metering: A Voltmeter is provided to indicate the output voltage.
Metering: A Voltmeter is provided to indicate the output voltage.
Protection: The design of the unit is such that it can withstand 20 percent overloading for short durations without any damage. Each unit consists of minimum-maximum range indicator, motor movement control Micro switch at the end of the range and oil Inlet & Outlet valve, oil level indicator, lifting arrangement for whole unit and transformer only, cooling radiator as per the capacity requirement.
Optional: Ampere meters, On-Off/switches Fuse, change over switch, under over voltage protection & indication with or without tripping, Arrangement, single phase protection. with or without contractor.