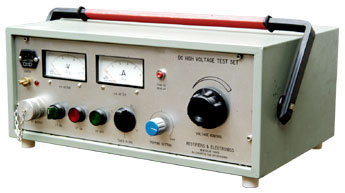 Stationary DC High voltage Test Set
Model Photo: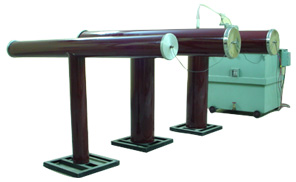 Product Description:
This equipment is used for testing the underground cable, large Generator, Motor Transformer capacitor etc as per IS specification. The unit comes equipped with digital meters, motorized controls, one/two way computer interface, Emergency shut down and Optimum operator safety features.
Special Features:
Multiplier circuit for economy and better life.
Multiple interlocks for human safety.
Optional computer interface facility.
Available unto 1000 kV and 1 Amps.
Technical Details:
Transformer: A double wound step up transformer is used for boosting the voltage. The transformer is made of super enameled wire, CRGO core and polyster film/paper for insulation.
Voltage Control: A step less auto-transformer is used for controlling the output from zero to maximum. The auto-transformer has built in arrangement for zero start interlocking.
Input Voltage: 230 or 400 volts single phase 50 Hz AC supply.
Output Voltage: Up to 300 KV
Capacity: Up to 50mA on HV side.
Rating: Continuous for testing and 15 minutes at full load
Control:
Knob to control the output voltage from zero to maximum or push button ncase of motorized model.
Knob to control the tripping current in steps.
Metering: Moving coil / digital KV meter and milliamp meter will be provided to indicate output Voltage and leakage current.
Terminating: The negative and positive terminals are brought out on suitable insulators. Positive or negative polarity can be supplied at Earth Potential on request.
Protection: The unit consists of fast acting DC relay which actuates instantaneously if
the testing current goes beyond the pre-set level. b) The HV will not actuate
if variac is not at zero position (To protect the transformer against transients
on HV side & to protect the operator)
Rectifier: Silicon diodes with RC network are used for rectification in bridge or doubler or multiplier or half wave circuit.
Portable DC High Voltage Tester
Model Photo:
Product Description:
Portable DC High Voltage Test Set is used for testing the underground cable for knowing the condition of cable-leakage at High Voltage. The units are supplied with 5 meter long input lead and 5 meter long output lead with sockets & clips. The unit comes with digital meters for easy readability with a test terminal for zero error.
Special Features:
Available in 30, 60, 75 & 120 kV models
Easy to operate
Digital meters for easy readability.
High Voltage Surge protection
Multiplier circuit for better life.
Technical Details:
Input: 220/230 Volts Single Phase 50Hz. Ac supply.
Output: 25-70
KVKVA: 150-1500W
Cooling: Naturally Air Cooled. Output Voltage
Control: Stepless Rating : Continuous for testing duty.
HT Cable: The equipment is supplied with five meters long cooper braided H.T. cable with HT plug and socket. The braiding remains on earth potential.
LT Cable: For input supply ten meters long 3 core cable is provided.
Zero Start Interlocking: This is to ensure that the H.T. shall not actuate if the voltage control knob is not at zero position.
Earth Interlocking: If proper earth is not connected the HT shall not actuate.
Auto Discharging Arrangement: The equipment consists of automatic cable discharging arrangement.
Socket: H.T. plug and socket has been especially developed by us with automatic earthing arrangement
Meters: mA meter and Volt meter are provided on H.T. side. The meters are well protected against surges and spikes.
Over Voltage Protection: H.T. Automatically trips in case of output voltage exceeds the preset level.
Surges And Spikes Protection: During the testing surges or spikes are often generated due to short circuit. The equipment is fully protected against these.